Hello to you.  Last night Kyle and I watched the Olympics Opening Ceremonies and I was brought to tears by the beauty of what I saw and also very disappointed in my country.  My favorite moments included watching The Map to The Stars – it brought tears to my eyes.  It has been so refreshing for Kyle and I to see new faces, hear new stories and learn about a culture that is so intricately woven into our own.  Kyle even recognized the Cardinal Directions.    He used to buy and read Manga and he introduced me to anime which we both now really enjoy.
http://ecumenicalbuddhism.blogspot.com/2010/02/four-symbols-five-cardinal-directions.html – excerpt, recommend if this peaks your curiosity you read this.
The Four Symbols (Chinese: 四象; pinyin: Sì Xiàng) are four mythological creatures in the Chinese constellations. They are:
Azure Dragon of the East (青龍)
Vermillion Bird of the South (朱雀)
White Tiger of the West (白虎)
Black Tortoise of the North (玄武)
Each one of them represents a direction and a season of the year, and each has its own individual characteristics and origins. They have been portrayed in many historical Chinese and Korean myths and fiction, and also appear in many modern Japanese comic books and animation.
The Box, Map to the Stars reference makes sense to me now as it was part of the Opening Ceremonies for the Winter Games to include a man who sat in a box and I was disappointed in his behavior, #2 Mike Pence.  Here was an opportunity for launching a path to peace and our country made choices to the contrary.  This is what conditional love looks like to me.   Progress not perfection though, at least all the "players" were there and willing to be in the same physical vicinity as one another.   It's not the "body" that matters, it's the behavior of the energy wearing the body that does.  Actions speak louder than words.    If you want peace in this world, you are going to have to work a lot harder on your behavior to get it.  It's about behavior when it comes to the quality of our character not our physical appearance or presence.
 Kim Jong-un's sister Kim Yo-jong showed great courage to me, a woman, trying to lead by her example and at least try to change the course of history.  When I watched her, I had to smile.  She strikes me as someone with a wicked sense of humor.  I know there are "violations" and "wrongs" that have happened but America has lead by it's example with blood on the streets every day.  How many mass shootings in just these few days of the year in this country.  We are in no position to judge anyone.
Leadership is solving problems. The day soldiers stop bringing you their problems is the day you have stopped leading them. They have either lost confidence that you can help or concluded you do not care. Either case is a failure of leadership.
http://www.bbc.com/news/world-asia-43003564
Winter Olympics 2018: Pence skips dinner with N Koreans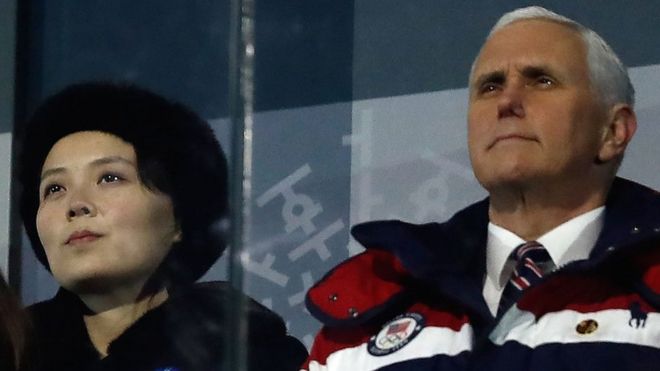 US Vice-President Mike Pence has skipped a dinner at which he was due to share a table with North Korea's ceremonial head of state Kim Yong-nam.
Mr Pence briefly encountered Mr Kim but they tried to avoid directly facing each other, Yonhap news agency reports.
Later South Korean President Moon Jae-in shook hands with North Korean leader Kim Jong-un's sister, Kim Yo-jong, at the Winter Olympics opening ceremony.
The Games are taking place amid tension over North Korea's nuclear programme.
Mr Yong-nam did briefly meet with United Nations Secretary-General Antonio Guterres at the dinner. According to a UN spokesperson, Mr Guterres reiterated a hope for "peaceful denuclearisation" on the peninsula.
What happened at the dinner?
Mr Pence and Kim Yong-nam were being hosted by President Moon before the opening ceremony in Pyeongchang.
But the US vice-president left the reception venue after five minutes, South Korea's Yonhap said.
While Mr Moon and Japanese Prime Minister Shinzo Abe both shook hands with Mr Kim, Mr Pence did not, South Korean officials said.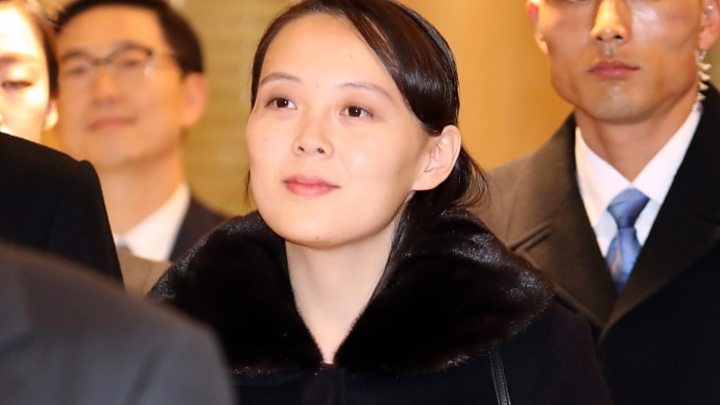 At the event Mr Moon said he hoped the Winter Olympics would be remembered as the "day peace began". He is due to meet the North Korean delegation for talks on Saturday according to Yonhap.
At the opening ceremony, Mr Pence, Kim Yo-jong and Kim Yong-nam were seated in close proximity to each other.
Mr Pence has brought to South Korea as a guest Fred Warmbier, the father of a young American who died after being released from prison in North Korea.
Who is Kim Yo-jong?
The highest profile member of the North Korean delegation to the Games, she is the first immediate member of the North's ruling family to visit the South since the 1950-1953 Korean war.
Ms Kim, who is said to be very close to her brother, was promoted to the North's powerful politburo last year.
She is on a US sanctions list over alleged links to human rights abuses in North Korea.
Ms Kim is thought to be about 30 years old, around four years younger than her brother.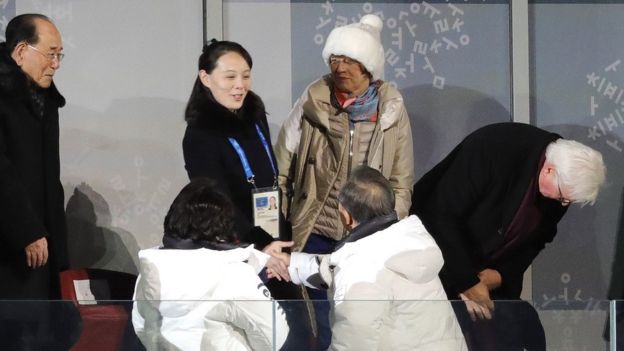 Her visit is being seen as a sign that Kim Jong-un is serious about improving ties with the South, the BBC's South Korea correspondent Laura Bicker reports.
She adds that some are also speculating that Ms Kim might be bringing a message from her brother.
How will the Koreas compete at the Games?
Athletes from both North and South Korea marched under one flag at the opening ceremony, bringing spectators to their feet.
They are also fielding a joint women's ice hockey team.
Alongside 22 athletes, Pyongyang has sent more than 400 delegates to the Games, including a team of cheerleaders and an orchestra.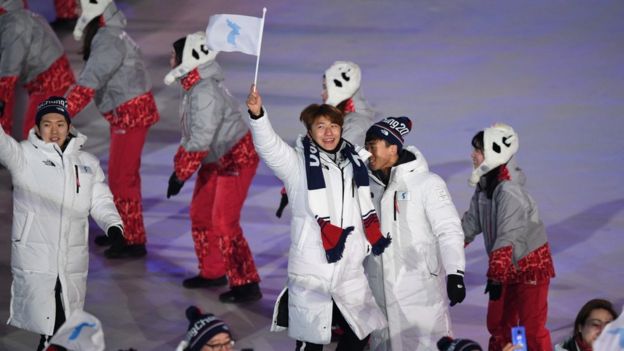 However the opening ceremony was not shown on North Korean state TV, which was broadcasting patriotic songs and slogans celebrating industry and the armed forces.
Have relations warmed?
Experts have cautioned that the current burst of sports diplomacy does not put an end to underlying regional tensions.
On Thursday North Korea had held a military parade that was originally scheduled for April but was brought forward.
Nevertheless, 2018 has got the countries off on an improved footing.
Kim Jong-un surprised many in his televised new-year speech, when – amid threats against the US – he expressed support for the Winter Olympics and a wish to "melt the frozen North-South relations".
The South had already said the North would be welcome to send a delegation, but few believed it would happen.
Later in January, a communications hotline was reinstated between the two countries, whose authorities then met for the first high-level talks in two years.
The Korean peninsula has been divided since the 1950-53 war and the two sides have never signed a peace treaty.