Hello to you. How are you doing? I'm waking up with some coffee that I am grateful for. I am grateful to the workers and the earth that makes coffee a reality.  I am wearing my gold ruby heart necklace from my parents this morning and am grateful to those who make "gold happen."  I was worried about the people in this story out of South Africa.  No one should have to die for vanity items, computers, trinkets, coins and bars:
https://www.cnbc.com/2018/02/02/reuters-america-update-2-workers-trapped-underground-in-south-africa-gold-mine-rescued.html
UPDATE 2-Workers trapped underground in South Africa gold mine rescued
Reuters
JOHANNESBURG, Feb 2 (Reuters) – All the miners who were trapped underground for more than 24 hours after a storm knocked out powerlines supplying electricity to the Beatrix gold mine in South Africa have been rescued, operator Sibanye-Stillwater said on Friday.
In a painstaking rescue mission, the exhausted miners were hoisted up one by one after temporary power pylons were installed. None sustained major injuries.
Although the company had said the more than 1,000 mineworkers stuck underground were never in danger, the incident highlights safety concerns in an industry that is home to the world's deepest mines, with workers at some sites operating at depths of up to 4 km.
"Everyone is fine, there were minor injuries and a bit of dehydration but that's all," company spokesman James Wellsted said.
Some workers were rescued on Thursday after emergency power supply from backup generators, but damage to the winder control systems and generators at one of the Beatrix shafts caused by a power surge forced 955 employees to remain underground.
They were hoisted to surface on Friday after temporary power line pylons were installed by Sibanye-Stillwater and Eskom, the country's power utility.
The effort to get the mineworkers to the surface was slow, as they were coming up one at a time, union officials said.
"We can also confirm that all workers did not sustain any injuries … they are just exhausted," spokesperson Livhuwani Mammburu, the National Union of Mineworkers (NUM) said.
"The NUM is extremely worried about health and safety measures in all mining companies in South Africa."
The parliamentary committee on mineral resources asked the Department of Mineral Resources (DMR) to explain why its safety inspectors failed to detect that the Beatrix mine did not have a reliable backup power system.
Officials at the DMR were not available to comment.
By November, the 2017 death toll of 76 in South Africas mines had already surpassed the 2016 figure of 73, ending nine straight years of falling fatalities and raising red flags for the industry.
The trend reversal is likely to reignite investor concern over mine safety and could prompt regulators to step up shaft inspections, which often result in costly production stoppages. (Reporting by Tanisha Heiberg; Writing by James Macharia; Editing by Alison Williams)
http://www.bbc.com/news/magazine-21969100 –
How much gold is there in the world?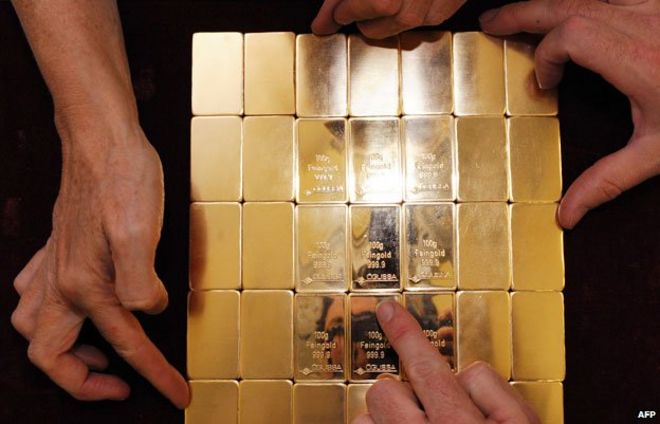 Imagine if you were a super-villain who had taken control of all the world's gold, and had decided to melt it down to make a cube. How long would the sides be? Hundreds of metres, thousands even?
Actually, it's unlikely to be anything like that size.
Warren Buffett, one of the world's richest investors, says the total amount of gold in the world – the gold above ground, that is – could fit into a cube with sides of just 20m (67ft).
But is that all there is? And if so, how do we know?
A figure that is widely used by investors comes from Thomson Reuters GFMS, which produces an annual gold survey.
 Their latest figure for all the gold in the world is 171,300 tonnes – which is almost exactly the same as the amount in our super-villain's imaginary cube.
A cube made of 171,300 tonnes would be about 20.7m (68ft) on each side. Or to put it another way, it would reach to 9.8m above ground level if exactly covering Wimbledon Centre Court.
But not everyone agrees with the GFMS figures.
Estimates range from 155,244 tonnes, marginally less than the GFMS figure, to about 16 times that amount – 2.5 million tonnes.
That bigger figure would make a cube of sides 50m (166ft) long, or a column of gold towering 143m above Wimbledon centre court.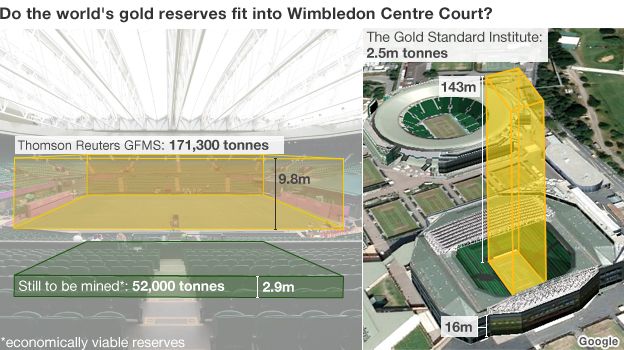 So why are the figures so different?
Part of the reason is that gold has been mined for a very long time – more than 6,000 years, according to gold historian Timothy Green.
The first gold coins were minted in about 550 BC under King Croesus of Lydia – a province in modern-day Turkey – and quickly became accepted payment for merchants and mercenary soldiers around the Mediterranean.
Up until 1492, the year Columbus sailed to America, GFMS estimates that 12,780 tonnes had been extracted.
But one investor who looked at the research done in this area, James Turk, the founder of Gold Money, discovered what he regarded as a series of over-estimates.
He believes that the primitive mining techniques used up to the Middle Ages mean that this figure is much too high, and that a more realistic total is just 297 tonnes.
His figure for the overall amount of gold in the world is 155,244 tonnes – 16,056 tonnes, or 10% less, than the assessment by Thompson Reuters GFMS. A relatively small disparity, perhaps, but one that at today's prices comes to more than $950bn.
His conclusions are accepted by some investors but such is the feeling between rival analysts that one competitor described Turk's figures as an alternative to the GFMS's "in the same way that Jedi is an alternative to Christianity".
But there are others who think both sets of figures are too low.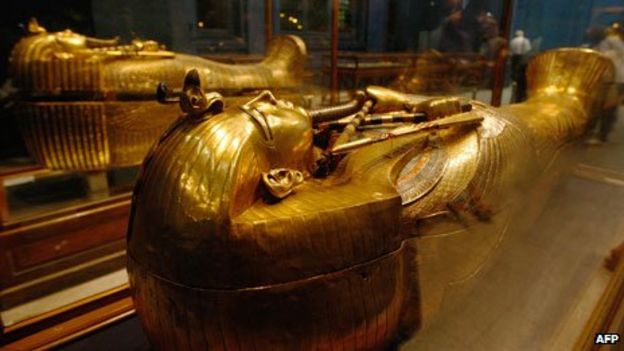 "In Tutankhamen's tomb alone they found that his coffin was made from 1.5 tonnes of gold, so imagine the gold that was found in the other tombs that were ransacked before records were taken of them," says Jan Skoyles of gold investment firm The Real Asset Company.
While James Turk makes only minor adjustments to the GFMS figure for the amount of gold mined after 1492, Skoyles points out that even today China is "not particularly open" about how much gold it is mining.
And in some countries, such as Colombia, "there's a lot of illegal mining going on", she says.
She doesn't have an exact figure to offer, but one organisation that has tried to do some maths is the Gold Standard Institute.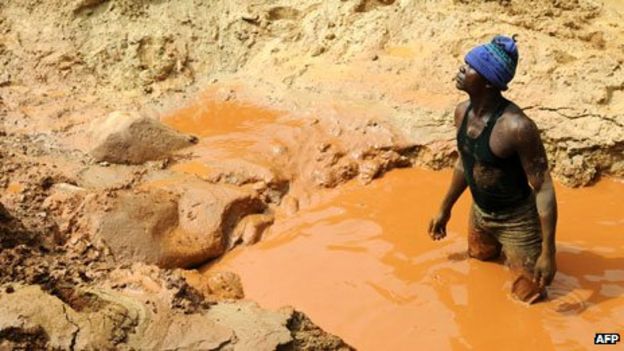 Its experts believe that if we emptied our bank vaults and jewellery boxes, we'd find no less than 2.5 million tonnes of gold – though they admit that the evidence is somewhat sparse and the figure is a bit speculative.
So who's right?
Well, we don't know.
In the end, all these numbers are made up of estimates added to estimates added to yet more estimates. Maybe they're all way off.
The good news is that we are not likely to run out of gold any time soon. The US Geological Survey estimates there are 52,000 tonnes of minable gold still in the ground and more is likely to be discovered.
The bad news is that the way we use gold is starting to change.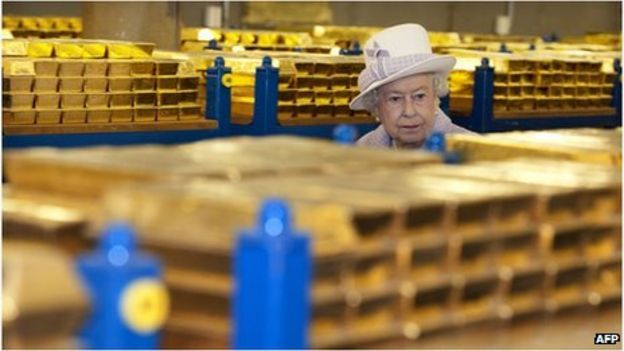 Up to now it has never gone away. It has always been recycled.
"All the gold that has been mined throughout history is still in existence in the above-ground stock. That means that if you have a gold watch, some of the gold in that watch could have been mined by the Romans 2,000 years ago," says James Turk.
The way gold is being used in the technology industry, however, is different.
The British Geological Survey states that about 12% of current world gold production finds its way to this sector, where it is often used in such small quantities, in each individual product, that it may no longer be economical to recycle it.
In short, gold may be being "consumed" for the first time.
So I had some interesting dreams. I woke up this morning thinking I had forgotten and then I was reminded. There were four dream segments.
The first segment was about being in two places at once. I know that doesn't make sense but I was in the dream but I was aware I wasn't there. I can remember singing in the dream in a foreign language. I was walking with a man near water in the dark and we were in Germany. I can remember my singing in the dream but trying to hear myself singing in "this world". It's like when you scream in a dream but it comes out silent in the "waking world." It was like that only singing instead (I've done the screaming in a dream part..scary!) One word I remember from the song was "Zapore."
The next segment was of being in a bath house like in Baden, Baden Germany. I actually visited Baden, Baden when I was stationed in Germany. There was a young woman and and old man and me. We were all naked. The attitude was we were all just sharing a bath, nothing sexual. (The Europeans are very different about nudity and shame than Americans. It was refreshing to experience a healthier attitude about the body while I was there.)
https://www.baden-baden.de/en/tourist-information/historical-sights/
Then there was a segment about choosing between two men. There was the angry man in the pickup who I was in relationship with, or Darren Criss (Blaine from Glee – guess my dream factory decided to cast him). I can remember giving Darren my phone number and we were going to get together.
The last part was about walking through a tunnel of dark trees with low hanging branches like Willow trees branches. The trees had eyes and so did the shadows.
All of these dreams needed keys from my conscious world – memories and experiences to unlock them. Not sure why my dream factory came up with these particular dreams.  I don't question the dreams,  I just try to remember and record them.
The dream about walking with a man around the water makes me think of King Ludvig II:
https://owlcation.com/humanities/Neuschwanstein-Castle-Prince-Ludwig-IIs-fairy-tale-and-mysterious-death
Death
On 13 June at 6pm, Ludwig II asked to go for a walk around the lake. He set off along with one of the psychiatrists who had declared him insane, Dr Bernard Van Gudden. The men never returned, and were eventually found dead. Ludwig's death was officially declared to be suicide by drowning, yet there are inconsistencies in the story. The autopsy said that there was no water in Ludwig's lungs making drowning as a cause of death seem unlikely. There was also evidence that Dr Van Gudden had been strangled and hit on the head. Notes found on the death bed of a local fisherman who died in 1933 claimed that Ludwig had been shot. The fisherman, Jacob Lidl said he had witnessed this while hiding behind a bush waiting to help Ludwig II escape, and that he had been forced to sign a statement swearing he would never tell this to anyone